In 2013 I had the opportunity to film for 3 days with Phil Collen, lead guitarist of Def Leppard (over 100 million albums sold), at his house. A few years later he a did a full day mastermind with me at my house in Southlake Tx when Def Leppard was in Dallas for a concert.
Here was a message Phil sent me after the Inner Circle Mastermind at my house:
 "Kyle you were a master to work with when filming and producing at my house. Also, Helen and I have toured and done so many 'meet and greets' and have had all kinds of cool activities and opportunities on the road, but at your house at the Inner Circle Mastermind ranks at the top as one of the all time best experiences we have ever had on the road. At your house the people and the love was so amazing. We are use to doing all the giving, but that day we felt loved and cared for. It was just an amazing experience! We still talk about it to this day. It is at the top of our tour memories from over all these years!"
Phil has since invited me, my family and many of my Inner Circle members backstage in LA and Dallas at least 10 times the past several years. 
Phil is world class person in addition to being world class in music as a guitarist, singer, songwriter and producer plus fitness (see the pics below) and personal development.
Phil last year was a guest on my Success Habits podcast and shares his story in my book Success Habits of Super Achievers.
Today I want to share with you Phil's story from the Success Habits book. He talks about getting started in music, his influences, why he quit drinking, how he and the band has dealt with adversity and tragedy, what he is passionate about , his success habits and keys to being fit and happy. Enjoy!
Phil Collen, Def Leppard and Living an Adrenalized Life 
Phil Collen is a world-class musician and the lead guitarist for the band Def Leppard which has sold over a hundred million albums. In addition to music, Phil is highly committed to fitness, personal development and making a positive impact on the planet. 
Learning Guitar and My First Band 
I was born in Hackney, a borough of London, and grew up in a place called Waltham Abbey. As a child, I loved music but thought it was completely out of reach until I got a guitar at age 16 and started to play. 
I left school and worked in a burglar alarm factory and then as a dispatch rider on a motorcycle while I was in a band called Girl until we got a record deal. We only got about $50 a week, but suddenly, I was a professional musician and I could concentrate on that. I had something I had to get out. My artistic expression was so rewarding and still is today. 
Def Leppard, Joe Elliot, and Mutt Lange 
On tour with Girl, we played the British clubs and pubs. When I met Def Leppard, they already had two albums out. 
Joe Elliot and I became friends. One day, he called me and said, "Pete is not in the band anymore. Do you want to play some guitar solos on this record?" I agreed and ended up on Pyromania playing songs like "Photograph", "Rock! Rock! (Till You Drop)", "Rock of Ages", and "Foolin'" and singing backing vocals. That album exploded. It all changed from that point onward. 
Robert John '"Mutt" Lange had just come off of an AC/DC album, and our management was fortunately able to hook him into Def Leppard's production. He saw something in the band, that we were malleable and something he could improve on. Unlike some musicians who would let their egos get in the way, we listened to Mutt and his suggestions. 
Mutt Lange is, without a doubt, the most influential person in my musical career. He is totally inspiring with the highest intellect of anyone I've ever met. This guy is a giant, but he's humble and modest. We learned so much from him. 
Singing, Songwriting, and the Muse 
Mutt is the reason I learned how to sing and how to play guitar properly. He had a way of introducing you to concepts so you would excel. It was an amazing way to do things that was almost spiritual. 
There's no more complete way to express yourself than through singing. It also improves your confidence. A lot of people pick up a guitar because they're a little intimidated by performing, and guitar is a great way to get out of your shell. When you're singing, it's entirely different, especially if you sing in front of people with no effects or band. If you can get up there, sing with confidence, and not really care what others may be thinking of you, it will improve other areas of your life. If you're a musician, it really takes you somewhere else. 
When you add writing, you're not just a songwriter, producer, or singer, you can be all of the above. I have songs going through my head all the time. I can't ignore them. I could sit down and write all day every day. Music can be so many things, and I find inspiration everywhere. It can be a drum beat, the sound of a car going by, or any sound that comes to you out of open windows or on the street when you walk around the city. One sound or phrase makes you sing and think of another phrase, word, or memory. I don't even look for inspiration. It practically comes through the air. When the inspiration hits you, it's fantastic, and you're grateful for the muse, whatever it was. 
I just signed with Sony Publishing, and they have been really great, hooking me up with a couple of different songwriters. We've been on a storm, working on stuff I wouldn't normally do. It's very inspiring to get into a different type of music. I'm also always writing Def Leppard stuff and am really excited about where we are going. 
"Pour Some Sugar On Me" 
The album Hysteria was hard work. Rick had lost his arm in a terrible accident. We were moving through different studios in different countries for two and a half years. We went into so much debt that it brought tears to my eyes when I read the breakdown. I thought we would never be able to pay it back to the record company. The album was almost finished, and we had to sell a ridiculous number of albums to break even. 
One afternoon, Joe was sitting in the hallway singing with his guitar, "Pour some sugar on me." Mutt Lange said, "What's that?"
Joe said, "Oh, I don't know." 
Mutt said, "Play that again." Over the next 10 days, we wrote and recorded the song "Pour Some Sugar On Me." It was the last thing to go on the record that we had already poured so much into, almost as an afterthought, and it broke the album. 
We had three singles out before it and we hadn't broken even by a long shot, and then that one came out. Dancers in strip clubs would request the song, and then it started getting popular by request on local radio. It became this massive song in Florida, and we had no idea. From there, it just exploded. 
Rick Allen's Accident 
On New Year's Eve, 1984, our band's drummer Rick Allen had a terrible car accident that resulted in him losing an arm. Our band loves and supports each other like a family, so we asked him what he wanted to do. Mutt Lange went to see him in the hospital and said, "There's all this technology, and you've got amazing kick drum bass pedal technique. You can use your foot and keep playing." He would have to change one limb for the other and would do double the work with his feet. 
Rick was practicing in bed with his one arm and his foot when Steve Clark and I went to visit him in hospital. The three of us lived in a house together in Donnybrook just outside of Dublin. I remember that it was very frustrating for him. He would practice from eight in the morning till about 10 at night, swearing and cursing. Then one day, there was no cursing, and we heard a cool rhythm that was in time. It just got better from there. He got to that next level and was able to keep taking it to another level until it was second nature. 
Playing With Two Other Bands and Touring 
I'm always busy creating and am part of two other bands. One is Delta Deep with Robert DeLeo of Stone Temple Pilot, Debbie Blackwell-Cook, Forest Robinson and the other is Manraze with Paul Cook of The Sex Pistols and Simon Laffy. I'm always having fun writing and recording. At some point, I might actually do a solo album. 
I did the G3 concert tour with Joe Satriani and John Petrucci from Dream Theater with Delta Deep. Robert DeLeo couldn't make the tour, so Craig Martini stepped in and played bass. Those guys are over the top musicians, yet are so humble. 
Touring can be challenging for many musicians, but I love the chance to be a tourist. I get up early in the morning and find somewhere to have a coffee and absorb the local vibe everywhere we go. Traveling can get a bit much, but if I'm on a tour bus, I'm asleep before we leave the parking lot and usually wake up in the next town. I have a wonderful wife and five kids, and I'm grateful that my family comes out at different parts of the tour. 
Health and Fitness 
Through Def Leppard, I am known for my body and high level of fitness. I'm avid about physical fitness and working out. I believe it is the fountain of youth. I'm 62 now, and I've been doing the 30 Day Workout Fitness Challenge. Moving and keeping the blood flowing keeps you young. I actually still feel like I'm 24, the age I was when I joined the Def Leppard, just with more life experience. 
When we're touring, I usually take a trainer out with us. I also love martial arts and have found it to be one of the keys to loosen the hips. I've never have back or leg problems like a lot of people do. 
I've been a strict vegetarian for 37 years and have practiced a vegan lifestyle for many years. Becoming a vegetarian was a moral decision because I couldn't eat a dead body. I stopped drinking 33 years ago. I was able to stop, but my best friend Steve Clark wasn't, and it ended up killing him. 
Recognizing Addiction and the Benefits of Being Sober 
I recognized I had an addiction when I realized I couldn't remember things. There were times I drove blind drunk. I finally understood that I could have hit someone. That really weighed on me, but I couldn't quit cold turkey. I had tried a few times before things like bringing just one glass of wine with me to the social gathering, but I couldn't do it. I'd bring the bottle instead. And then it was Jack Daniels by the end of the week. 
On my ex-girlfriend Liz's birthday in April 1987, we were in Paris having a glass of champagne, and I said, "I'm not drinking after this." We went to India the next day, and I quit cold turkey. That was it, actually. It was really easy, and she did it with me. 
The benefits were outrageous. I got two extra hours a day that I wasn't spending recovering or just feeling not great. That's when I started working out because I actually had time to burn. I started running, and it inspired me to do more. I'd run along the shoreline just south of Dublin, even in the cold weather. It wasn't the running itself I enjoyed, it was being in nature and the fact that I just felt different because I wasn't nursing a hangover. I was this clear, cleaner version of me. 
Adrenalized Life, Def Leppard, and Beyond 
Chris Epting encouraged me to write a book because he thought I had some great stories to share. He received some interest from a few book companies and then Simon & Schuster agreed to publish it. I worked back and forth with their editors, and my wife Helen helped me as well. At one point, we sat down and re-edited the whole thing. When you have to write it down, you wonder if it's right, if you are getting the point across, if it sounds too high brow or low brow. 
I recently wrote a short story and am planning on writing another. Two short stories would make a great little book. But writing a book, writing a story, or writing a song is a lot more difficult than people think. 
Building Confidence by Overcoming Adversity 
When I was a kid, I was asthmatic. My doctor had said, "I'm not going to give him an inhaler to rely on. I want him to go swimming." When you're swimming, you're thinking about other things, and after a while, I would forget that I couldn't breathe, and my concentration on swimming would open my lungs up. And when I started playing guitar, I gained confidence in myself and started feeling different, and the asthma more or less went away. 
I think every little thing you learn creates confidence, an ability to deal with stuff and not feel embarrassed. When I first became a vegetarian, I felt bad because I felt my dietary restrictions would put people out. At some point, I decided that I wasn't going to please others because I chose to do something else. My vegetarianism became empowering for me. It wasn't ego. It was confidence. You have to accept yourself and your limitations, then make your limitations your strengths. Actually, when you are simply aware of your limitations, they often become your strengths. 
Success and Daily Habits 
I think consistency is so important. It's so easy to fall off, and when you do, you have to get back into it, and that's a lot harder. If you maintain whatever you're doing and are regularly inspired by it, you achieve more. 
One of the hardest things to do is meditate and actually think of nothing, especially if you've got songs running through your head and little boys running around. I struggle with it, but I do it. Meditation is very powerful because it gives you time alone to escape. 
I like to have flow in my day and not be rigid. You don't have to fix things, it is what it is. You're on a trajectory. When you're not in that mode, you can overthink things. You can go, My God, I haven't got any money coming in. I'm not doing this. I'm not doing that. My songwriting is dried up. You overthink. When you avoid this but keep all the moving parts going in a successful routine, your life actually runs itself. 
Phil Collen is the lead guitar player for Def Leppard. For more information on Phil and Def Leppard, go to defleppard.com. To learn more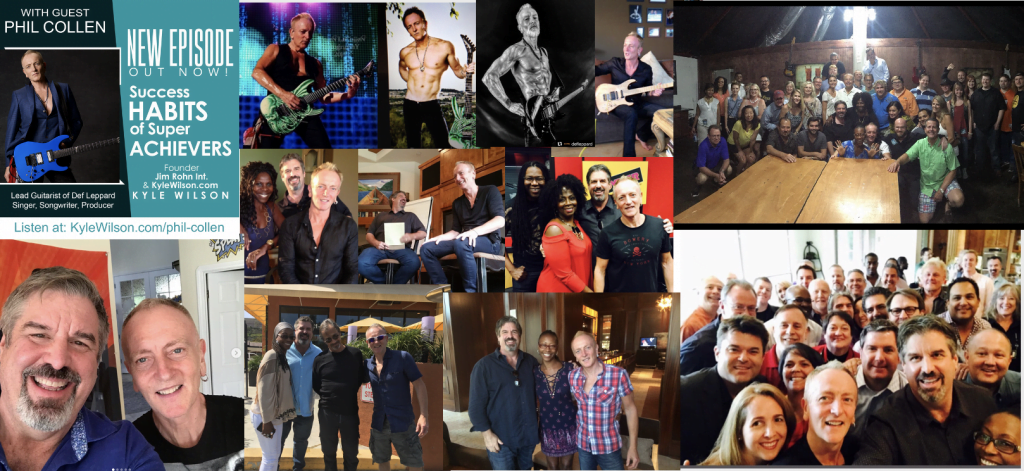 Join Me in My Next Book!
Just as I published books with Jim Rohn, Denis Waitley and a who's who of celebrity authorities (including in my recent books that include Darren Hardy, Les Brown, Brian Tracy, Mark Victor Hansen, John Assaraf and many more), I want to offer you the opportunity to join me in my next book project.
To learn more go to http://kylewilson.com/bestseller and simply fill out the brief application form at the bottom. After I receive it I will send you a link to schedule a call to discuss all the specifics and if it will be a great fit for you and me. 
I hope to share your story with the world!
———————————————
And as my 18-year business partner, mentor and friend, Jim Rohn would tell me, let's do something remarkable!
Kyle
PS – I have sold millions of books as a publisher the past 25 years. I know how to teach you how to leverage a book to fill your calendar with speeches, build a list, create a brand, get into important doors, get interviews and so much more. 
PSS – We have a limited amount of spots available, so if interested go to http://kylewilson.com/bestseller and simply fill out the brief application form at the bottom.  I will then forward you more info and we can set up a call.
Kyle Wilson, Founder Jim Rohn International, YourSuccessStore and KyleWilson.com
"Kyle, thank you for our partnership and friendship. Friendship is wealth and you make me a rich man. Love and Respect!" Jim Rohn, Iconic Philosopher & Speaker
"Kyle Wilson is brilliant and so very knowledgeable and an icon in this industry. He was the power behind Jim Rohn. Kyle is my longtime friend and someone I have a great deal of respect for." Les Brown, Iconic Speaker and Author
"I guard my endorsements carefully. Regarding Kyle, he is simply a marketing genius! No joke. Kyle was the wizard behind the successful business of my mentor Jim Rohn. Every marketing dilemma I have ever had Kyle has given me the brilliant and elegant solution on the spot. Kyle's consulting has saved and earned me hundreds of thousands of dollars over the years." Darren Hardy, Former Publisher SUCCESS Magazine
"I have worked closely with Kyle Wilson for 20 years. He is one of the best all-around marketers, promoters, business-builders and entrepreneurs in the business today. We have generated more than a million dollars together." Brian Tracy, Int Speaker & Author
"Kyle is a valued friend, a marketing superstar and one of the most knowledgeable people in the personal development industry." Robin Sharma, Author of Monk Who Sold His Ferrari 
"I've known and worked with Kyle Wilson for over 20 years. Kyle is the ONLY person that ALWAYS under-promised and over-delivered every single time my dad Zig and I worked with him. He is a valued friend and some one I have great admiration and respect for!" Tom Ziglar, President of Zig Ziglar Corp
"Kyle is one of my old and dear friends and one of the smartest marketing guys I have had the opportunity to work with. He is the scrappy marketing guy. What I mean by that is, there are lots of guys who will put out business plans and do all kinds of nonsense and swing for home runs. Kyle is the real deal and finds ways to create product, add value, help people, build community, he's unbelievable." Eric Worre, Author of Go Pro