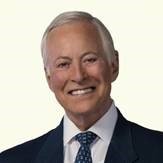 Brian Tracy has addressed more than 5,000,000 audiences and over 5,000 talks worldwide. He  has written and produced more than 300 audio and video learning programs, including the  worldwide, best-selling Psychology of Achievement, which has been translated into more than  28 languages.
Brian's goal is to help you achieve your personal and business goals faster and easier than you ever imagined.
On this Q&A call, Brian shares on:
 Business Module Reinvention
Your Value Proposition
Advice on Creating Books and Programs
2 Keys for Success in Business
Marketing and Sales are the Heartbeat of Business
Positive Expectations – Raising Positive, Self-Confident Kids
Referral Strategies
Lessons Learned From Failures
Creating a Positive Environment
The Success Mastery Academy Program
Who Has Influenced Him the Most
And much more!
The number one reason for business problems is low sales, the number one reason for business success is high sales, everything else is just commentary. – Brain Tracy
Brian is an amazing person, with a wealth of knowledge and wisdom not only in the business world, but also with his life philosophy—This call is absolutely amazing!
Enjoy!
Kyle Wilson and the Lessons From Network Team